news / March 16, 2016
Erasmus for Young Entrepreneurs
I have been pleased to host three inspiring would-be entrepreneurs over the last few years and have been delighted to see them all develop their entrepreneurial ideas and professional development whilst on their stay with us – and more importantly, once they step out into the real world of business.
So what is Erasmus for Young Entrepreneurs?

Erasmus for Young Entrepreneurs www.erasmus-entrepreneurs.eu is a cross-border exchange programme funded by the European Union which gives new or aspiring entrepreneurs the chance to learn from experienced entrepreneurs running small businesses in other Participating Countries.
The exchange of experience takes place during a stay of up to 6 months with the experienced entrepreneur, which helps the new entrepreneur acquire the skills needed to run a small firm.
The host benefits from fresh perspectives on his/her business and gets the opportunities to cooperate with foreign partners or learn about new markets.
And how does it work in practice? Let our EYE placements speak for themselves…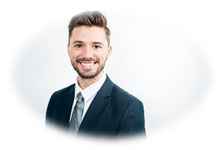 Manuel Moreno was our first placement – who immediately set the bar very high.
Manuel arrived from Spain and very soon found himself settled in Brussels.
Q: What did you hope to get out of your EYE placement?
"I've always had a very entrepreneurial character and always been very eager to participate in an international project. As a potential new entrepreneur, the idea of working closely with an experienced entrepreneur looked like a great opportunity to find out answers to most of my doubts. That was the moment that I said to myself: "What if I become the architect of my future?" Two months later, I was heading to Brussels."
Q: What did you learn?
"This programme was my first contact with enterprise as a real participant looking at the threats and opportunities that my business idea would face. The project helped me to know more about myself; trying to identify my main strengths and working on empowering them. Furthermore, it made me think about what my weaknesses were at that time and obliged me to improve them. Perhaps the biggest conclusion that I got from the programme was that my business idea less mature than I had thought and would require more time to analyse the market needs, explore the international dimension of my organisation and to build the crucial network of contacts for success in the real market. Thanks to this experience, I improved my communications skills, focused mainly on the design of a catalogue of products, setting up an e-shop and Social Media Management of the brand.
Q: What was the result - what you are doing now?
Now, three years later, I am working as "Creative Communications and Events Manager" at DIGITALEUROPE, the voice of the European Digital Technology Industry. Although there is still a big journey to walk through, I'm making the most of each day and confident of my future professional career in Communications. I'm having the opportunity to work with our 60 corporate members and 37 National Trade Associations all around Europe. In December 2015, I was awarded as the "Most Inspirational Career Campaigner" within the frame of the European eSkills for Jobs project: https://www.youtube.com/watch?v=fxpD-RFf414
Q: What was the best part/ and what was the biggest challenge?
"Having the chance to collaborate together with a really competent employer and team, gave me the opportunity to attend high-level meetings & design fairs, to gain self-confidence and to improve my language skills at the same time. From that moment, Glynis Whiting became my mentor.
On the other hand, when you are young and think you have a great business idea in mind, you believe everything is possible. The biggest challenge for me was admitting that my personal project was not ready to go live at that time and I was not prepared to lead such organisation. I overcame my doubts as an entrepreneur and took the most of my first attempt to start my own business. Since the beginning, I really appreciated the support that I got from both the host company and the intermediary institutions in the programme in Belgium and Spain."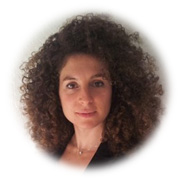 Corinna Rubiu, originally from Italy, saw in the EYE programme an opportunity to take stock and explore new avenues
"I started my experience with Starfish MRM in a particular moment of my life in which I was trying to find a new direction. Previously I had five's year experience in the legal sector and I wanted to reach out into the international market and explore a changing career pattern.
For this reason, I was very excited to start with a young start-up of very experienced professionals who believe in continuous learning and improvement like me. Furthermore, their holistic approach helped me to look at the bigger picture and create meaningful change in my life."
My work with Starfish was focus on transferable market development, communication and social media skills and activities, and to increase the business strategy. In details: 1) I have learnt how identify a pipeline of potential clients and how raise company awareness amongst potential clients and multipliers ambassadors; 2) I went to meetings and events which could improve my learning and networking abilities (the more funny part of the work, actually!); 3) I held meetings with Starfish's partners in order to discuss on business strategies, work methodologies and other related topics.
By working with the Starfish's partners, I have complemented my professional skills on project management and, last but not least, my languages skills. I have understood how start up my business in EU market and I have learnt about Starfish's work methodology (related with Agile and Scrum methods too).
Besides, I developed organizational, verbal and written communication skills and competences and I learnt different cultural and organisational settings and how companies work in another country.
Thanks to my experience at Starfish I enriched my business strategy by following up ongoing work in marketing and sales areas as well as development areas on technical assistance, planning, development and feasibility studies, business finance, business programs monitoring, internationalization and industrial research and competitive development"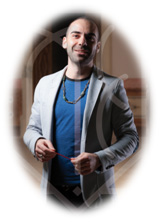 Bruno Micolano joined us from Italy to give his new design business an international boost. Bruno's business, in innovative jewellery design, seemed at first glance very different from our digital business consultancy.
But we soon found many areas of mutual interest which have been a great success for both host and new entrepreneur alike.
"My Erasmus for Young Entrepreneurs was a great human and educational experience, that has contributed to my professional growth.
Thanks to activities made with StarFish (my Host) and their supervision, I improved my vision of the international market, I learned methods and tools for a more efficient management of my skills and products and created my own online identity.
Equally rewarding and a hands-on training experience for me has been to contribute at Starfish MRM's rebranding project, where the combination of different professional backgrounds helped us to achieve an excellent concept, as result of great teamwork.
StarFishMRM was the perfect place for my EYE placement, thanks to their preparation and activities I have fully satisfied all my expectations, increasing my skills and entrepreneurial spirit."
Check out Bruno's new website on www.brunomicolano.com
So would you recommend the EYE experience?
Bruno: "I highly recommend the EYE to young entrepreneurs, there is no more beautiful experience than to confront yourself with foreign dynamics to increase your own vision, imagination and sense of the market; and to the Hosts too, thanks to which they can get new points of view and new spirit from enterprising young entrepreneurs that has chosen this possibilities."
Corinna: "Starfish and I have created a long-term collaboration by exploiting synergies, sharing contacts to develop projects and identify new opportunities to work together in news future.
I highly recommend this formative experience"
Manuel: "The "Erasmus for Young Entrepreneurs Programme" was one of the most valuable steps in my international professional career. Receiving the unconditional support from a host entrepreneur is a really eye-opening exercise. I would highly recommend the participation of new entrepreneurs in the programme as it should have a wider and longer-lasting effect on cross-border entrepreneurship. Although the biggest challenge is to convince the host company to spend time mentoring a potential entrepreneur, I think it's always a win-win situation where they both win. What is really important is to spend time matching the right candidate with the right organisation and finding the same level of commitment."

Glynis Whiting